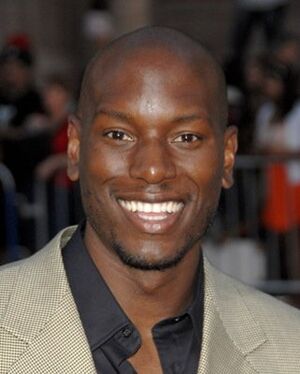 Tyrese Darnell Gibson, often known simply as Tyrese or Black-Ty, is an American R&B singer, songwriter, rapper, actor, and former fashion model and MTV VJ. After releasing several successful albums, he made the transition into films, with lead roles in several Hollywood films, including Waist Deep, 2 Fast 2 Furious, Flight of the Phoenix, Four Brothers, Baby Boy and Transformers.
He plays Machine-Gun Joe in Death Race.
Biography
Edit
Early life
Edit
Gibson was born in South Central Los Angeles. His mother, Priscilla Murray Gibson (née Durham), raised him and his three older siblings as a single parent after Gibson's father left in 1983.
Gibson's career began when he won a talent show at the age of fourteen. An appearance in a 1998 Coca-Cola advertisement, singing the phrase "Always Coca-Cola", led to wider fame, and at the age of seventeen his chiseled looks paved the way for him to model for Tommy Hilfiger. In regards to beefing up, he told CraveOnline that he does "just a few push ups here and there... I'm doing push ups and eating Ding Dongs. That's it, man. Twinkies, got to keep it right".
Music career
Edit
Initially an MC, Gibson rapped under the alias of Black-Ty and was a member of an underground group known as Triple Impact,.
Gibson was given the role originally intended for Tupac in the 2001 film Baby Boy (film); the movie was somewhat of a success for him. Gibson subsequently appeared in the 2003 box office success 2 Fast 2 Furious (opposite Paul Walker with whom he formed a close friendship), as well as Flight of the Phoenix (2004), Four Brothers (2005) and Annapolis (2006), co-starring James Franco.
In 2006, Gibson starred in Waist Deep, in which he played a man fighting to rescue his son from kidnappers; his co-stars in the film, Meagan Good and Larenz Tate, are personal friends of Gibson's in real life. Gibson may also star in a film version of the superhero Luke Cage; as of 2006, the script was being re-formatted.
External links
Edit